TEAM⁄ULLMANN
www.political-leadership.co.at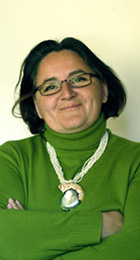 Dr. Iris Ullmann, Ph.D
"We have to conceive political leadership as a relationship, a relationship, built on trust and responsibility."
IRIS ULLMANN - web-site administrator of www.political-leadership.co.at - is a political scientist, whose research focuses on leadership. She is especially concerned with the obvious tensions between the concepts of political leadership and democracy.
She studied political sciences and contemporary history, sociology und European law at the University of Innsbruck and Texas A&M University Kingsville.
More about her CV.
Selected Publications
Causa Austria. Haider - Schüssel - Vranitzky. Eine Studie zu

Political Leadership

. Studien zur politischen Wirklichkeit 23. Anton Pelinka (ed.), Braumüller,
You can find a list of publications here.
Selected Projects
Leaders and Followers Hovering between Hope and Fears - How Political Leadership Might Lead to Political Integration: A case-study on inclusive and exclusive political leadership - Obama and the United States... more
The Journalistic View of Political Leadership in Austria - A Case Study by the Austrian Political Science Association. - How do journalists perceive, judge and influence leadership in the political realm? ... more
Blog with book reviews concerning leadership: Blog about

Political Leadership
Contact Information
You can easily reach Iris Ullmann via her email-account:
Please also use the above account if you detect any technical problems with this website.
You can also find Iris Ullmann on facebook, twitter, pinterest and instagram:
Author (and liable for the content): Iris Ullmann Photo: Oswald Jenewein